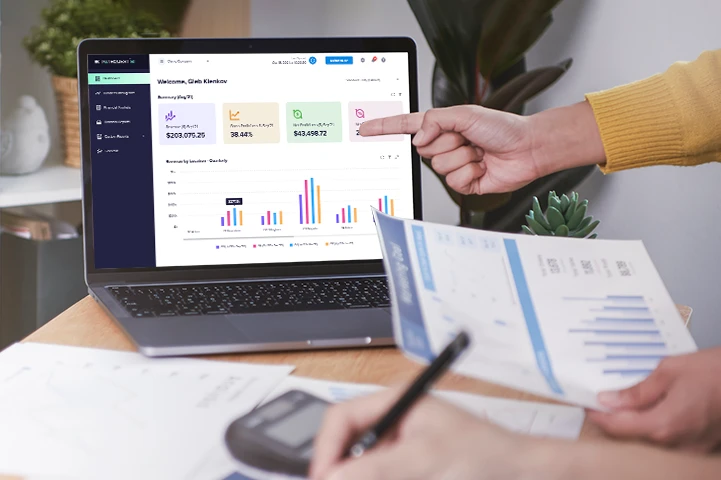 Recently updated on September 6th, 2023 at 06:05 am
A 2020 survey conducted by CPA.com highlighted some interesting statistics regarding the potential for growth in the accounting industry. It revealed that almost 30% of clients claimed they need client advisory services (CAS), and almost 70% wished that strategic consulting was a service offered by their CPA firm. Additionally, the survey found that CPA firms that offered the service were paid over 40% more by their clients. So with such a profitable supply and demand scenario, why are many firms not offering CAS?
Let's imagine the traditional scenario of a CPA firm providing accounting services to an organization or business. These traditional services have a relatively narrow focus: entering data in spreadsheets, balancing accounts, and generating reports. This may seem like an oversimplification, but it illustrates the point. In this scenario, the accounting firm is reactive, not proactive. They are likely unaware of their client's growth plan and business strategies, and they await decisions and instructions from the organization, offering little to no input or advice on how such decisions are made.
Accountant advisory services are not just an add-on to the traditional services of a CPA firm; they represent a complete shift in the relationship between firm and client. What are CAS, and how do they add value to an accounting firm's relationship with its clients?
The Value of Advisory Services—Untapped and Unrealized
Accountant advisory services refer to when an accounting firm goes beyond bookkeeping and expands into an advisory role. They do the heavy lifting of sifting through data and reports to generate intelligent studies, findings, and conclusions. This enables them to offer recommendations and outline strategies to guide the client in decision making. Being actively involved in the decision-making process and growth of the client's business puts the accounting firm into a more strategic position, vastly changing the dynamic. So why do many firms fail to recognize the value of CAS?
Mainly, it's because of the commitment and infrastructure needed to offer these services. The data for such advisory services cannot be analyzed and generated from the accounting dashboard of traditional software, but rather, more complex accounting business intelligence software is needed. This represents an investment in new software and IT personnel. Many firms may hold back if they do not recognize the true potential of CAS.
How to Build, Sustain, and Grow Advisory Services
Recognizing the value of accounting advisory services, there are proactive steps you can take to build, maintain, and grow your firm's services. Think of them as the ABCs of CAS.
Automate
Business organizations are increasingly leveraging technology for day-to-day operations, consolidation, and problem-solving. Even small businesses are investing in mobile technology. To be in a position to create a dynamic relationship with your clients, you'll need to invest in accounting business intelligence software, something more complex and customizable than traditional offerings. PathQuest® BI, for example, combines accounting data analytics software and financial performance analytics with a fully customizable accounting dashboard and performance dashboard, making data more visual and interactive.
Bundle
Changing the dynamics changes the value of your services, so it follows that prices for your services will also increase. To do this successfully, many firms choose to bundle their services into attractive packages that suit various client needs. Industry statistics show that firms are almost four times more successful when price increases are incorporated as bundled services.
Commit
The transition from the traditional accounting firm to advisory services requires commitment on multiple levels. You'll need to embrace new technologies, train your staff, stand by your recommendations, and build more interactive and intuitive relationships with clients. The transition may be slow, and it may be a while before you see a return on your investment. But almost 30% of firms have successfully made this transition already, and you can too.
Leverage the Advantages of PathQuest® BI
PathQuest® BI has been created to help your firm transition into a lucrative advisory capacity. It is a real-time financial data analysis tool packed with intelligent features. Here are some of the many advantages to our accounting business intelligence software:
Customizability Users can customize their dashboard for each client and also customize the parameters and variables for individual reports and analyses. Numerous performance dashboards can be created for respective clients. It provides unique scalability and functions across multiple operating systems.
Visualization Data is transformed into visual graphics that make it easier to observe and project trends, compile results, and formulate strategies. Its intuitive automation allows you to analyze, track, and enhance business intelligence. Smart KPI's provide visual indicators of progress toward business benchmarks and projected milestones.
Security Token-based access provides secure accounting from multiple locations of input. Users can be granted temporary or permanent access as required.
Integration PathQuest® BI successfully integrates with accounting platforms, such as QuickBooks, Xero, and Sage Intacct.
Wrapping Up
PathQuest® BI is committed to helping you transition your firm to an advisory role by providing the tools and flexibility you need to offer your clients the full value of CAS. Data-driven results in a secure and trusted platform will empower your firm to build, sustain, and grow advisory services. For more info reach us at [email protected]