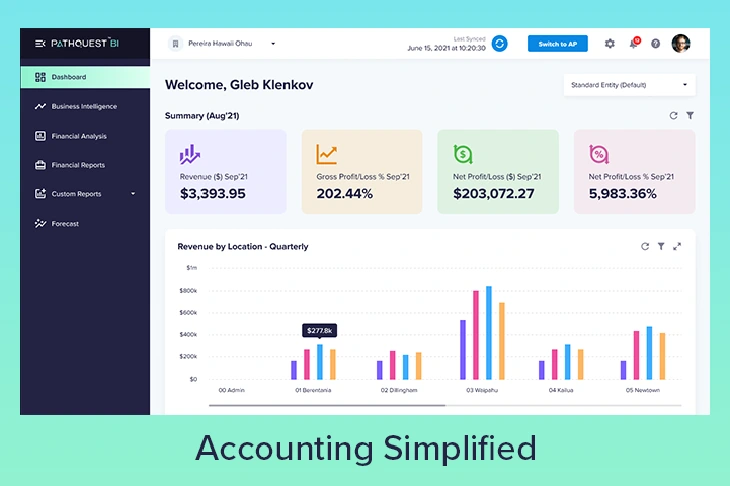 Recently updated on September 6th, 2023 at 06:01 am
Do you know how digital transformation governs your financial books? Have you ever thought of bringing data under one roof to simplify the accounting of the business? According to the accounting today survey, 90% of the business failures are due to financial management. Why don't you implement Business intelligence in your business and see the best improvement opportunities?
PathQuest® BI (Business Intelligence) is a reporting tool that integrates, transforms, and analyzes data from the complex structure into actionable insights. It's a revolutionary solution to thrive in business efficiency and effectiveness. Financial reporting and analysis software help to make a solid decision for the betterment of the business.
The key benefits of a business intelligence reporting tool offer long-term growth and market trends to stand you ahead of the curve. With accurate reporting and valuable insights, you can make unmatchable revenue. Firmly, this can be one of the best ways to get competitive advantages in its diverse nature.
Here are the top financial analysis software features:
Self-assisted dashboard configuration
This Business Intelligence software provides you a customized dashboard to organize your financial data at a single window. You get access to revenue reports by category base on month, quarter, and year with the location-specific. With its self-assisted dashboard configuration, you can add, change, manage or delete reports from the dashboard at your convenience and find out the most relevant data to fulfill your requirement.
Consolidate Financials
Its consolidated financials functionality will allow you to nurture combine reports that give you actionable insights for business growth under one roof. The consolidated financials will be an add-on to measure your business competence and adaptability. You will get better actionable insights on the business financial behavior based on the BI analytics tool.
Custom fields and dimensions creation
With the dimensional reporting feature, you'll be able to drill financial data based on location, department, and class within the set aggregation. It will provide you a clear picture of your business so that you can take better decisions to meet the market demand without failing competitive advantages.
Sustainability Analysis
Have you ever found out the financial areas that raise a concern about the sustainability of your business? With this top financial software, you will get a detailed analysis that speaks about your business revenue, gross profit, net profit, compliances, and trends. Based on the reports of these five categories, you will be able to take proactive actions for business growth and clear financials.
Mobility Advantage
We have the Apps on android and iOS platforms for the clients to make this software handy. You now get all your financials at your fingertips on the go, you do not need to rely on the team to provide with you the analytics and financial reports simply access all the reports from your phone anytime, anywhere.
Entity Reporting
Entity reporting caters to every business including an individual, single location, and multiple location owners for creating an unlimited number of groups, companies, and franchises business models. Based on the hierarchy model, it streamlines the work process for your organization.
Conclusion
These are some of the unique features of PathQuest® BI that help you to transform your business digitally. It will cut down operational costs, improve efficiency, increase productivity, visibility and figure out the best business solution to cope up with the current marketing trends. It will provide a clear and holistic picture of your business that empowers the strong business decisions for the new opportunities.
Are you still thinking about how to get started with the PathQuest® BI? Let us assist you .