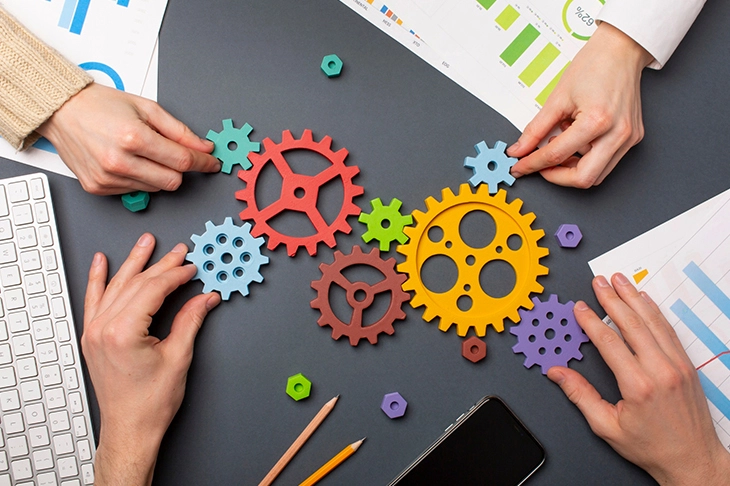 Recently updated on September 6th, 2023 at 10:30 am
Wondering if Accounts Payable (AP) automation is truly a necessity? In a world where time is money and efficiency reigns supreme, businesses are constantly seeking the holy grail of streamlined financial management. Are you still stuck in the age-old manual processes that lead to errors, delays, and missed opportunities? The answer might lie in the hidden power of AP automation—a game-changer for modern enterprises! 
Here's an interesting stat: Companies with accounts payable automation can experience cost savings of up to 70% compared to traditional manual processing. That's right, this isn't just a minor improvement; it's a seismic shift in your company's financial prowess. 
Curious to explore how AP automation can transform your business into an efficiency powerhouse? Fasten your seatbelt and join us on this exhilarating journey. In this article, we unveil the true potential of AP automation and how it can propel your business towards unparalleled success! Let's spill the beans on whether AP automation is indeed a necessity for thriving in today's competitive landscape. 
The Hidden Power of AP Automation
It is no surprise that to thrive in today's fast-paced business environment, you need to keep pace with change. Embracing new technology to transform your business processes is the key. And one game-changing technology is Accounts Payable Automation, with the potential to transform your accounts payable process. AP automation is the secret sauce that can revolutionize your company's AP process. When it comes to AP solutions, the benefits are not just long-term perks; they start yielding immediate results. Faster invoice processing, reduced errors, and real-time approval workflows are just a few immediate gains. By digitizing and streamlining the accounts payable process, businesses can experience lightning-fast invoice processing, increased productivity, and improved decision-making capabilities. 
The Burning Question: Is AP Automation a Luxury or a Necessity?
As companies strive to streamline their processes and unlock greater productivity, the debate surrounding AP automation intensifies. Is it a mere luxury or an absolute necessity? AP automation has proven itself to be more than just a time-saving solution; it is an indispensable necessity that can significantly impact a company's financial management. In fact, in our recent podcast, our hosts Amit and Tom shared invaluable insights on the burning question of whether AP automation is a luxury or a necessity. Their insights shed light on AP automation's true essence—it transcends being a mere fancy perk and emerges as an indispensable tool, empowering businesses to excel in the digital world. The statistics presented in podcast were staggering, showing how businesses can achieve a 29% reduction in data discrepancies, a 42% decrease in missing invoices, a significant 61% drop in manual routing for approval, and a remarkable 71% decline in manual entry errors with AP automation. Beyond being a mere time-saver, AP automation is a game changer that unlocks a multitude of benefits: 
Lightning-Fast Invoice Processing:

Bid farewell to tedious manual processes as automation takes over, ensuring swift and accurate invoice handling. No longer will your accounts payable team drown in paperwork and spend hours on data entry. Instead, with the power of automation, invoices flow seamlessly through the system, reducing processing time to a fraction of what it once was.

Minimizing Human Errors:

Say goodbye to embarrassing blunders and unnecessary expenses caused by manual data entry mistakes. AP automation brings a new level of accuracy to your financial processes, eliminating the risk of human error. By automating data capture and validation, you can rest assured that your financial records are precise and reliable.

Empowering Smarter Decision-Making:

Gain real-time insights into financial data, enabling informed and strategic choices for business growth. With AP solutions, you can access up-to-date information on cash flow, spending patterns, and vendor performance. Armed with this knowledge, your finance team can make data-driven decisions that drive the company forward.

Building Stronger Vendor Relationships:

Prompt payments and smoother interactions foster goodwill and trust with suppliers. You can ensure timely payments, avoid late payment penalties and strengthen your relationships with vendors. Suppliers will appreciate the efficiency and reliability of your payment process, leading to smoother collaborations and potential discounts.

Cost Savings with AP Automation:

One of the most compelling reasons to embrace AP automation is the substantial cost savings it brings. Companies can achieve cost savings ranging from

$6 to $26

per invoice processed, as reported by Levvel Businesses with accounts payable automation can experience cost savings of up to 70% compared to traditional manual processing, as reported by Ardent Partners.
The Stories of Transformation: From Chaos to Zen
As companies grow, automating their AP process becomes more than just an option; it becomes a necessity to stay competitive in the digital age. Manual processes that once worked for smaller operations become bottlenecks as the business expands. To gain a competitive edge in the fast-paced and technology-driven landscape, AP automation is not just a luxury but a strategic move towards efficiency and growth. Are you ready to be inspired by real-world success stories of businesses that have firsthand experience of how AP automation is a must-have ingredient for success? Let's dive into these captivating tales of transformation, where enterprises went from chaos to Zen, all thanks to the power of AP automation.  
A renewable energy company, once drowning in paperwork and manual tasks, but now soaring with a staggering 98% accuracy rate in vendor invoices, all thanks to the automated invoice data capture. AP Automation has been a huge hit for the team. The company now has more time on its hands and the necessary resources to achieve substantial operational efficiency.  
Now, meet a restaurant franchise operation that bid farewell to errors, streamlined approvals, and witnessed a meteoric 99% invoice processing validation rate. With two-way and three-way matching, the restaurant franchise eliminated disputes and ensured accuracy in payments. AP automation enabled better visibility and control over their overdue bills, aging vendors, top 10 purchases and vendors as well as missed bills and payments.  
These success stories are nothing short of inspiring, showcasing how automation revolutionizes a business from chaos to efficiency. 
Finding the Right AP Solution for Your Business
Choosing the right AP software is crucial. Consider business needs, scalability, user-friendliness, integration, and security. Look for centralized platforms, real-time updates, and vendor portals. Prioritize security with two-factor authentication and data integrity measures. Customize user permissions for added control. A well-suited AP solution can streamline financial processes, boost productivity, and drive success. Take the time to find the perfect fit for your business's growth and prosperity. 
Bottom Line
In the relentless pursuit of efficiency and financial prowess, AP automation emerges not as a mere luxury but an indispensable necessity. With its power to revolutionize businesses through lightning-fast invoice processing, error reduction, and data-driven decision-making, AP automation becomes the key to unlocking true potential and staying competitive in the dynamic digital landscape. Embrace this transformative force and witness unparalleled success, as manual processes are left behind, and businesses soar towards operational excellence and prosperity. The choice is clear – automation is the key to efficiency, growth, and unparalleled success. 
Curious about the podcast discussed in the blog? Tune in to our full podcast featuring industry experts to discover the transformative power of AP automation. Don't miss this chance to unlock unparalleled efficiency and drive your business towards remarkable growth.