PathQuest Business Intelligence Solution for Restaurants
Rethink strategies to tackle the mounting pressure shaking single or multi-location restaurants. With our strategic business intelligence system, track key metrics such as COGS, gross profit, and financial health across your restaurants. Identify cost-saving opportunities and high-profit-margin dishes. Analyze historical and weekly sales, plan inventory, forecast sales, and assess sustainability scores. Stay compliant with timely notifications. It's time to see how Restaurants are embracing the power of automation to create a meaningful impact.
1.8
Hours Saved Every Day in Data Reporting
5X
Faster Decision-making
Financial Analysis
Real-time financial analysis at a glance. Track and monitor operational as well as financial performance of your restaurant. Gain insights into COGS, gross profit, net profit, and custom KPIs through dynamic charts and reports. Make data-driven decisions with current, historical, and predictive views of your restaurant's financials.
Forecast
Retrieve historical data of your single or multi-location restaurant from existing accounting software to project cash flow, profit and loss, and balance sheets. Unlock the potential for forecast analytics spanning up to 24 months. Customize your forecasts, apply filters to analyze income versus expense, and make detailed monthly comparisons of predicted inflows and outflows.
Franchise Ranking
Harness the power of franchise ranking and benchmarking to gain unparalleled visibility and transparency across your entire restaurant business network. Discover the top-performing and fast-scaling restaurants for optimal inventory and staff management. Compare your business performance against industry averages, ensuring you stay ahead of the competition.
PathQuest BI Integrates with Industry Leading Accounting Software
Seamless data integration of PathQuest BI and your accounting software enables you to analyze, visualize, and get powerful financial insights for your franchise performance
What Our Customers Are Saying
Elevating Data Insights with PathQuest
"PathQuest BI empowers us to explore data from multiple perspectives, enhancing our understanding of clients' financial reports. PathQuest Business intelligence elevates the depth of our operations by liberating us from the tedious number-crunching and data upkeep. With more time at our disposal, we engage with clients to chart their future course. It's not just about 'what's next,' but rather the richer insights we gain. The platform's vibrant visualizations and comprehensive financial reports have allowed us to uncover critical insights, from comparing actual expenses to projections to identifying untapped growth opportunities in our clients' income streams. PathQuest BI has empowered us to transition from traditional accounting practice to advisory services."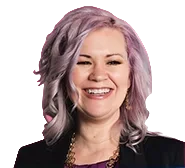 Liz Scott
CEO, Accounting Lifeline
Our Latest Thinking
Discover our informative and insightful resources to find a solution to your problems and stay up-to-date on the latest news, blogs, whitepapers, webinars, podcasts, and sample reports from our experts.